Dessert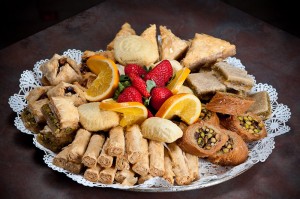 Baklava: Sheets of filo, richly endowed with pis­ta­chios or wal­nuts and sweet­ened with sugar syrup.
Bird nest: Crispy lay­ers of filo filled with pinenuts and baked to golden per­fec­tion.
Ladyfin­gers: Flakey filo dough rolled around ground cashews.
Mamoul: Cookie pas­try made of farina, sweet­ened with rose­wa­ter, filled with wal­nuts, or dates, or pis­ta­chio nuts.
Burma: Shred­ded filo dough wrapped around pis­ta­chios and baked to a golden brown.
Bal­lourie: Lightly baked shred­ded filo and chopped pis­ta­chio with a hint of rose water.