About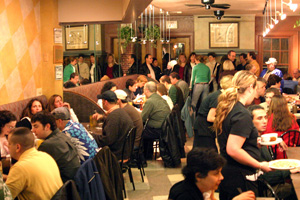 The Sinbad's of today had a very hum­ble begin­ning in March 1994 when the doors first opened. It is because of Ziad Naoum's per­se­ver­ance and ded­i­ca­tion to pro­vid­ing the best food and expe­ri­ence to his cus­tomers that Sinbad's con­tin­ues to pros­per today.
In 1999 when more staff was added, Ziad's broth­er Imad also joined the crew who had just arrived from Lebanon.
In 2001 and and again 2006, exten­sive remod­el­ing was done to the inte­ri­or and exte­ri­or; adding the patio, expand­ing the kitchen and enhanc­ing the Sinbad's din­ing room.
Ziad and Imad Naoum remain com­mit­ted to their for­mu­la for suc­cess: pro­vid­ing authen­tic fresh dish­es and the best ser­vice pos­si­ble which has result­ed in Sinbad's being vot­ed, the best Mid­dle East­ern restau­rant in town by both the Rochester Demo­c­rat and Chron­i­cle as well as City News­pa­per.
Awards
Sinbad's was vot­ed "Best Mid­dle East­ern Restau­rant" in City Newspaper's 'Best Of' awards in 2002, 2003, 2005, 2006 and 2007
Reviews
Rochester City News­pa­per
City Search
tri­pad­vi­sor
In The Mood for Food
urbans­poon